DEFY Wood Cleaner is an oxygenated bleach wood deck cleaning solution that effectively removes dirt, grime, and weathered graying from wood surfaces. Unlike most chlorine bleach based cleaners, this product will not harm wood fibers, pets, grass or most plants.
Using a chlorine bleach not only harms the wood as well as the vegetation surrounding the deck, but it doesn't actually clean or remove any stains. It just bleaches them out. DEFY Wood Cleaner is a powdered, oxygen bleach concentrate that is mixed with water to clean and restore the natural beauty of exterior wood. When you use DEFY Wood Cleaner, you can actually see it work as it foams up and penetrates down to the pores to give your deck a thorough cleaning.
Even new wood needs to be cleaned in order to remove mill scale to make the surface more porous to easily absorb deck stains. 
DEFY Wood Cleaner is a powdered concentrate sold in 2 lb. recyclable containers. A 2 lb. container of DEFY oxygen bleach wood deck cleaner makes five gallons of solution and will clean approximately 500-1,000 total square feet (or 100-200 square feet per gallon). DEFY Wood Cleaner is also an excellent cleaner for vinyl and aluminum siding.
QUICK FACTS
Coverage Rate: Approx. 500-1,000 sq. ft. per 2 lb. container. Each 2 lb. container makes 5 gallons of cleaning solution. 
Available Sizes: 2 lb. containers
Application Temperatures: Minimum 45° F
Application Method: Pump sprayer, mop or soft-bristle car wash type brush
Rinsing Method: Garden hose or power washer
Cleanup: Soap and water
Click here for Product Data & Safety Sheets.
DEFY Wood Cleaner is a powdered concentrate that is mixed with water. DEFY Wood Cleaner cleans and restores the natural beauty of exterior wood. This product is also an excellent cleaner for vinyl and aluminum siding. DEFY Wood Cleaner will not harm wood fibers, grass, or most plants. DEFY Wood Cleaner removes dirt, grime, mildew stains, previous coatings (not paint) and weathered graying from horizontal and vertical wood surfaces. DEFY Wood Cleaner is recommended for surface preparation prior to application or reapplication of clear finishes and stains (for best results use DEFY Wood Stain).
NOTE: DEFY Wood Cleaner will darken redwood and some types of cedar. You must use DEFY Wood Brightener to remove darkening caused by DEFY Wood Cleaner.
DIRECTIONS FOR USE
Use 6 oz. (3/4 cup) of DEFY Wood Cleaner powdered concentrate with each gallon of water. One gallon covers 100-200 sq. ft. depending on wood porosity.
STEP 1: MIX: Mix with water and stir thoroughly until powder is dissolved. Powder dissolves faster in warm water. Solution should be used within six hours of mixing.
STEP 2: APPLY: Horizontal Surfaces – Dampen surface with water before application. Apply DEFY Wood Cleaner solution with a pump sprayer, brush, or mop, working on small areas (20-30 sq. ft.) at a time. Vertical Surfaces – Dampen surface with water before application. Apply with a sprayer working on small areas at a time. Start at the bottom and work to the top.
STEP 3: BRUSH: Horizontal Surfaces – Let solution stand approximately 10-20 minutes, keeping area wet with additional DEFY Wood Cleaner solution. Thoroughly scrub with a stiff, short bristle broom or brush. Vertical Surfaces – Let stand approximately 10-20 minutes, keeping surfaces wet with additional solution. Thoroughly scrub with brush, working from bottom to top. DEFY Wood Cleaner will open wood pores and some raising of wood fibers may occur.
STEP 4: RINSE: Rinse thoroughly with water from garden hose or power washer (with 800-1200 psi) using lowest pressure that cleans without damaging the wood. Repeat steps 2-4 on next small area. Continually rinse cleaned area of vertical surfaces to avoid streaking as work progresses. Allow wood surfaces to visually dry before applying DEFY Wood Stains. Heavily weathered or soiled surfaces may require a second application.
SAFETY & HANDLING: Solution will not harm grass or most plants. Rinse grass & plants thoroughly with water after exposure. Accumulation of product on ladders, scaffolding, decks, etc., may result in a slippery surface.
PRECAUTIONS
DANGER! Corrosive. Causes eye and skin burns. Harmful or fatal if swallowed. Oxidizer - contact with flammable or combustible material may cause fire. Keep out of reach of children. Do not take internally. Avoid contact with eyes and mucous membranes and prolonged contact with skin. Wash skin thoroughly after handling. Avoid breathing mist. Close container tightly after each use. Do not re-use containers. Do not eat, drink or smoke when using this product. Wear protective gloves, clothing and eye protection. Contains sodium carbonate peroxyhydrate, tetrasodium pyrophosphate, and sodium metasilicate. Do not mix with chlorine bleach or other chemicals. Store in original container only. Accumulation of product on ladders, scaffolding, decks, etc., may result in a slippery surface.
FIRST AID
If inhaled: Move to fresh air. If swallowed: Rinse mouth. Do NOT induce vomiting. Never give an unconscious person anything to drink. Immediately call a POISON CENTER or doctor/physician. Oxygen and/or artificial respiration may be necessary. For skin contact: Remove/Take off immediately all contaminated clothing. Wash off immediately with soap and plenty of water. Get medical attention if irritation persists. For eye contact: Immediately flush eyes thoroughly with water for at least 15 minutes, including under the eyelids. Remove contact lenses, if present and easy to do. Continue rinsing. Seek medical attention immediately. For additional information for this product, consult the Safety Data Sheet available at www.defywoodstain.com.
SIMPLE
DEFY not only stains the wood, but it also seals it against water penetration
DEFY stains can be applied to visibly dry wood or wood that is slightly damp. This makes it possible to clean, brighten and stain all in one day.
DEFY stains are penetrating stains that soak into the wood pores to form a strong, long-lasting bond.
No messy solvents needed! Clean-up is easy with just soap and water.
BEAUTIFUL

DEFY offers clear, semi-transparent, and solid stains in a variety of colors that not only protect but beautify your wood.
DEFY stains are available in flat, natural-looking finishes as well as finishes with a satin sheen (DEFY Ultra).
DURABLE
DEFY stains are formulated with the latest technology, combined with high-quality ingredients that create a lasting finish that is not prone to peeling, premature fading, or graying.
DEFY stains offer weather protection from the sun, rain, and snow.
DEFY stands behind the integrity of our products. If you are not satisfied with the performance of this product, and provide that you have followed label instructions, return the unused portion with a proof of purchase for refund or replacement of product.
This guarantee does not include the cost of labor for removal or application of the product.


FAQs
When you've been making wood stain products as long as we have, you get used to answering similar questions. So we've gathered some of our most frequently asked questions for you here.
If you can't find the answer you're looking for below, we have more FAQ's here. Our blog is also has helpful resources and videos designed to help homeowners with every type of wood stain project.
CLEANING & PREPARATION
The answer varies based on the current condition of your wood. If you do decide to pressure wash your deck, use pressure between 1,000 or 1,200 psi. Also be sure to work with the grain and never against it, as it will cause damage to the wood's surface and splinters.
If you don't have easy access to a pressure washer or have to pay to rent one, we recommend DEFY Wood Cleaner instead. It's easy to use and will clean deep into the wood, which makes your next coat of wood stain more effective and more beautiful.
If you are using an oil-based stain, definitely. You can use DEFY stains, which are water-based products, even when the surface is slightly damp.
With oil based stains, wood must be bone-dry before you can begin staining. However, DEFY stains are water-based, so you can use them even when the surface is slightly damp.
If your wood is in constant shade and moisture is present often, you might never be able to prevent mold and mildew completely. However, you can improve your chances by keeping your deck cleaned and sealed with professional grade stains like DEFY Extreme, DEFY Ultra, and DEFY Solid stains. All 3 of these DEFY stain products contain zinc nano-particles to resist mold/mildew growth. Zinc is naturally resistant to mold & mildew.
Use a diluted bleach solution to clean it off. Mix DEFY Wood Cleaner with water (five parts water to one part cleaner), spray it on, let it set for five or ten minutes, and rinse it off. To prevent it from coming back, stain your deck with DEFY Ultra, Solid, or Extreme Wood Stain for the ultimate mold and mildew protection.
TOOLS & APPLICATION
The best tool for the job varies by the type of job. For decks, the quickest and easiest method to apply DEFY deck stain is with a "car wash" brush. Some have handles and some are handheld and they can be found in most home improvement stores.
You can, but we don't recommend it. Paint rollers were designed for thick paint, not water-based wood stains. Using a roller will often simply push the stain around on the surface and not force it into the pores. It can also leave a stipple effect in the finish when the stain has dried.
When using a semi-transparent DEFY stain (Essential, Extreme or Ultra), only apply as much stain as the wood can absorb easily. If any puddles form during your staining process, be sure to brush them out to disperse the puddle.
DEFY Essential and Extreme stains have a flat finish, so if a gloss has formed on the surface the stain has been over-applied. Over time, it will be likely to peel. Even after two coats, your deck should still have a flat finish.
With DEFY Ultra stains, two coats will result in a satin finish. One coat will appear flat. A glossy appearance, would still indicate an over-application.
This can vary slightly based on where you live, but typically the Spring and Fall offer the easiest conditions to work in. Below 80° is ideal and regardless of the season, it's best to stay out of direct sunlight because it can cause the stain to dry too quickly.
CARE & MAINTENANCE
We know it's easier NOT to stain your deck, but we've designed DEFY wood stains to be the next easiest thing! Leaving your deck untreated, means you'll be building a new deck in a few years and that's much more expensive than protecting the one you've already got.
Your home's outdoor spaces are extension of your life and they deserve both beauty and protection. DEFY wood stains will help protect your investment from UV rays, stains from mold and mildew, and moisture. Restore and extend the life of your deck with DEFY.
That's easy! Clean your deck with DEFY Wood Brightener, which will give it a boost in appearance. You can also apply one, light coat of new stain once you've brightened.
Yes, DEFY Composite Deck Sealer works well on most composite wood surfaces. Just follow all of the directions in the same way that you would if you were staining regular wood and you'll love the results!
Our Recommended Steps for Maximum Performance
Better Wood Starts here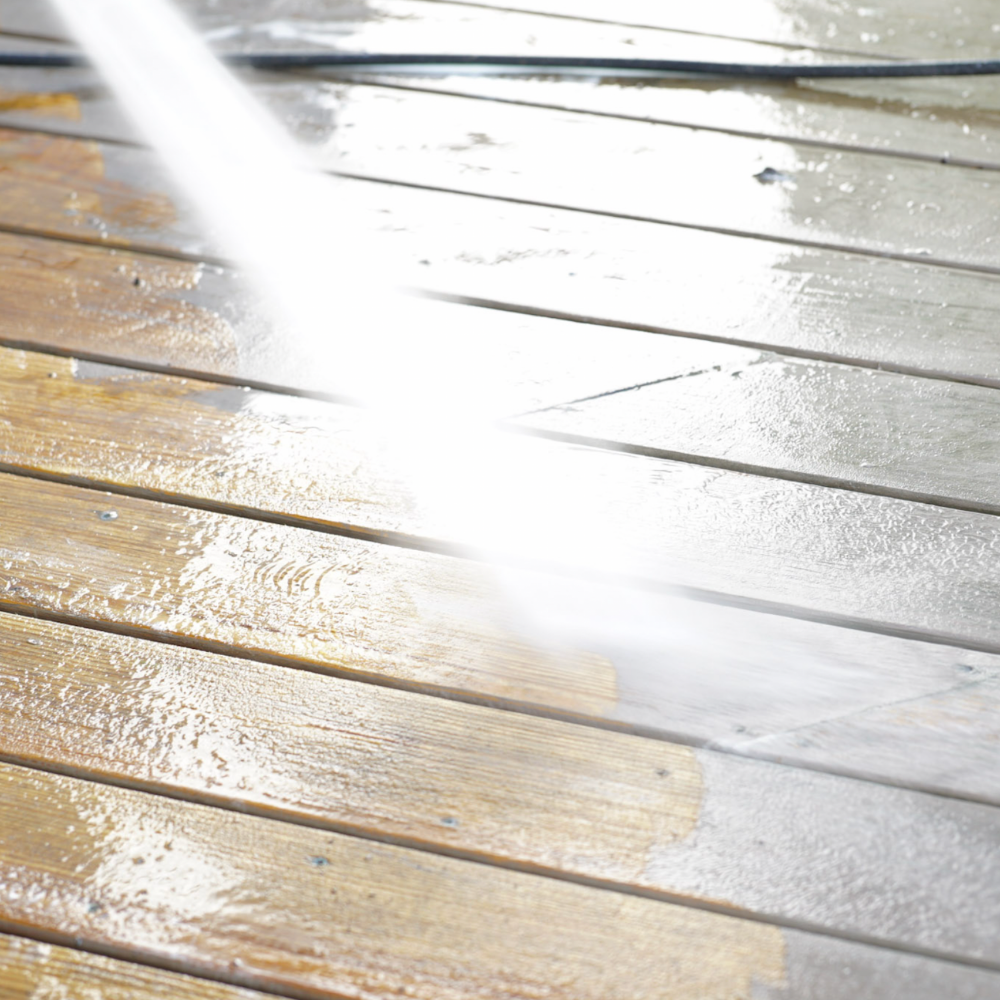 CLEAN or STRIP
If your wood that is weathered, dirty, graying, or already has a worn out stain on it, use DEFY Wood Cleaner. If there is existing, weathered stain that is still holding up, use DEFY Stain Stripper instead. These products help prepare your wood to receive the maximum amount of new stain and give the entire surface a consistent color.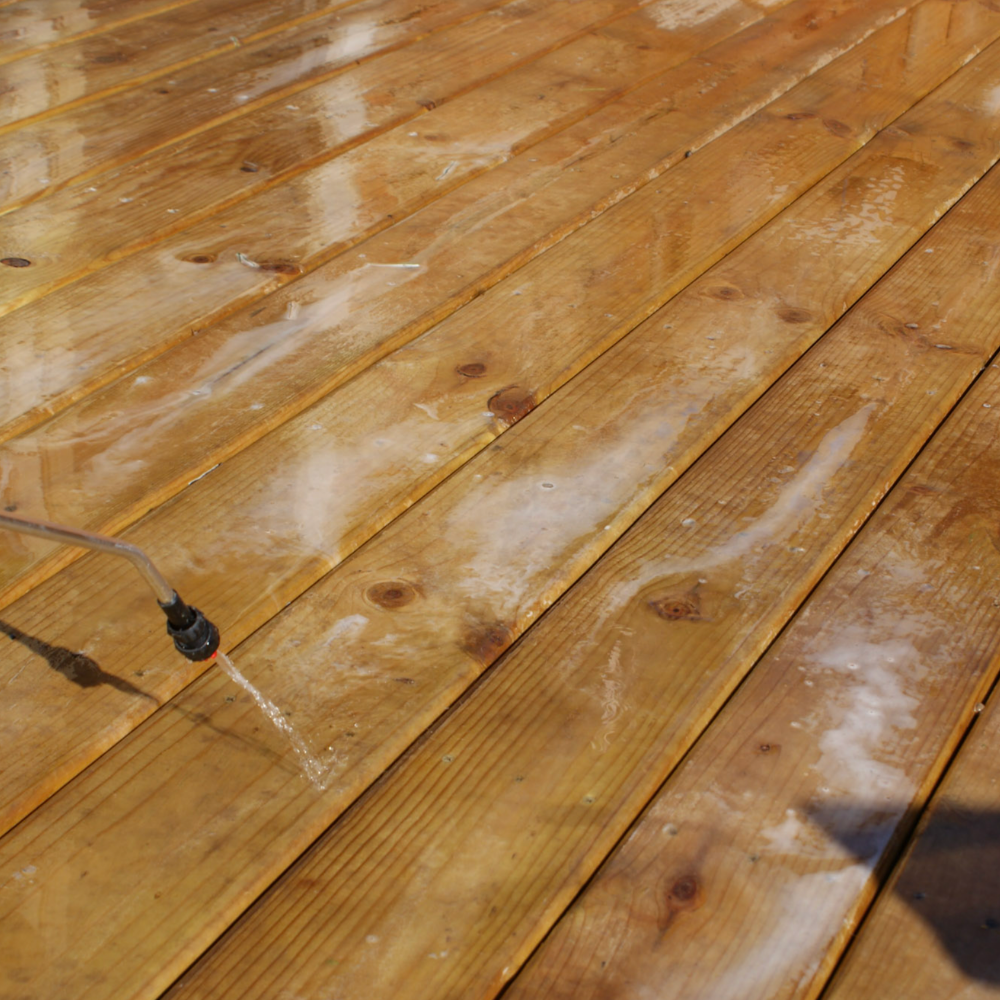 BRIGHTEN
Once the wood has been cleaned or stripped, use DEFY Wood Brightener to neutralize and brighten the surface.
It also opens the wood pores, so that they can receive the maximum amount of stain.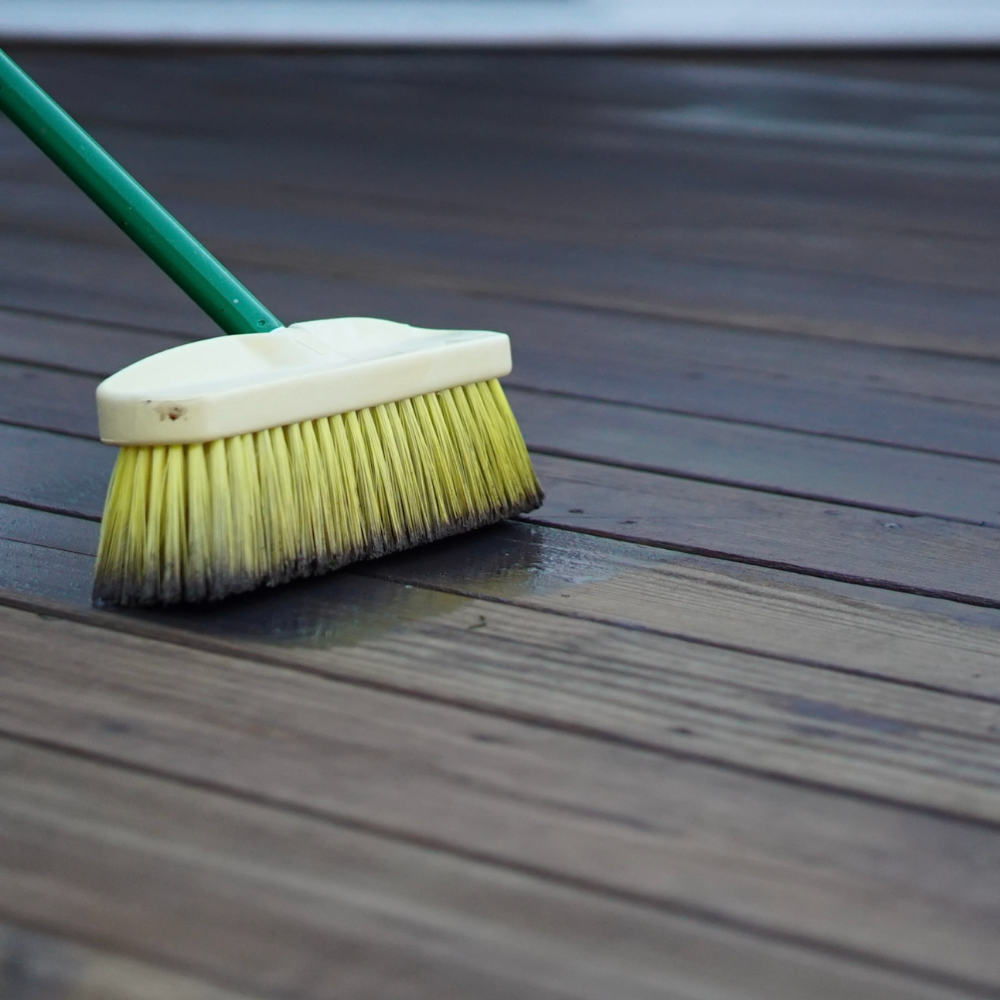 STAIN
DEFY offers a variety of stains designed specifically for exterior wood, marine wood and composite wood. Choose your preferred stain color and transparency, then apply one or two coats to protect the natural appearance of your wood.
RESTORE & PROTECT WITH DEFY
DEFY Project Gallery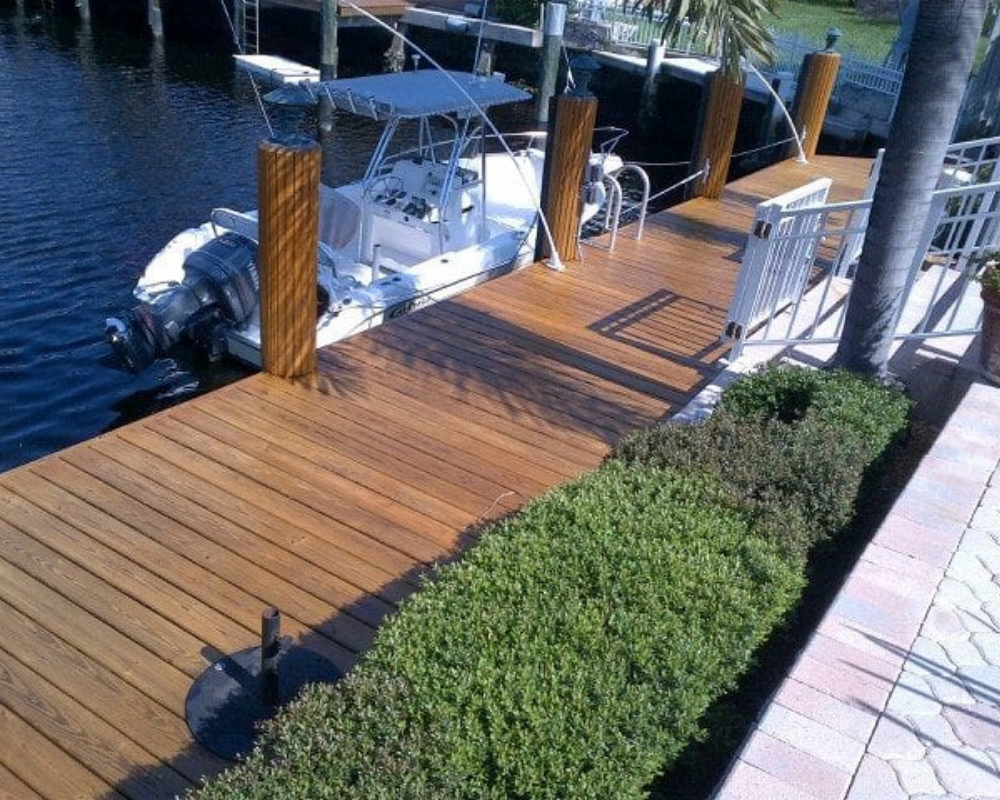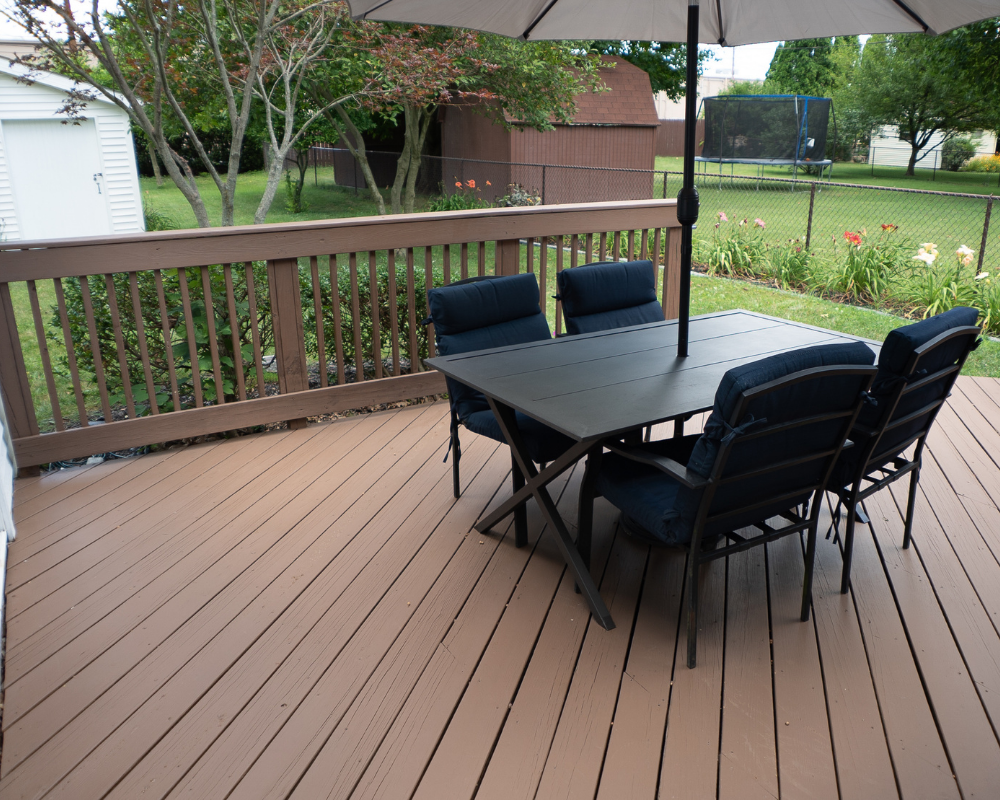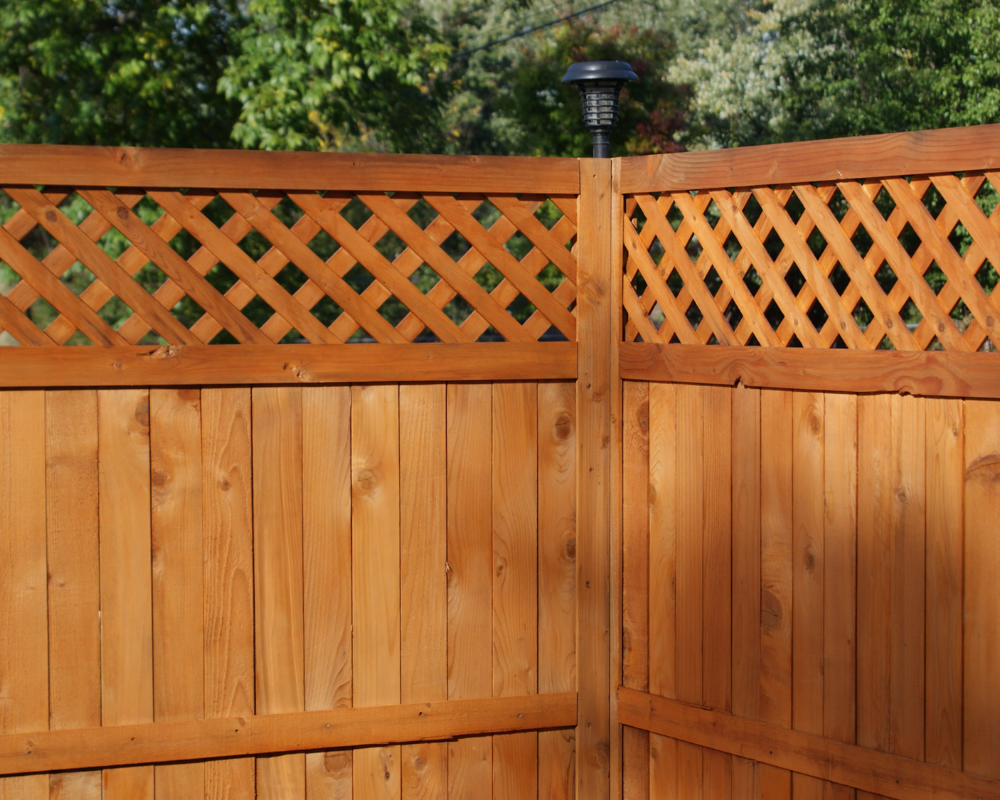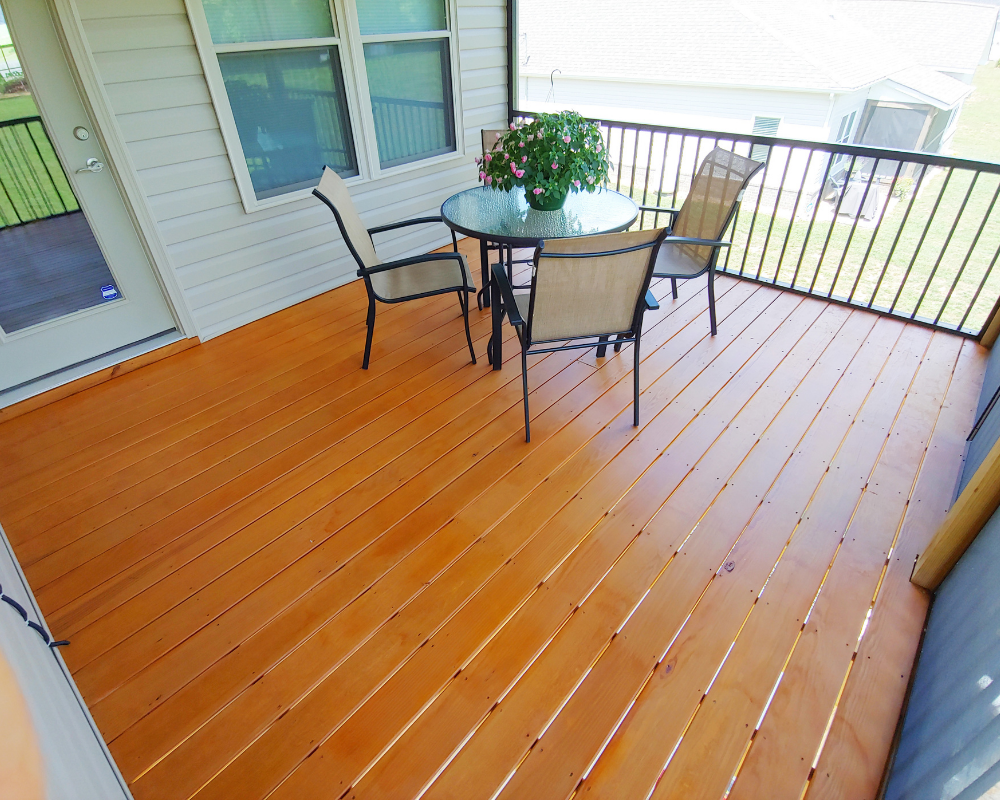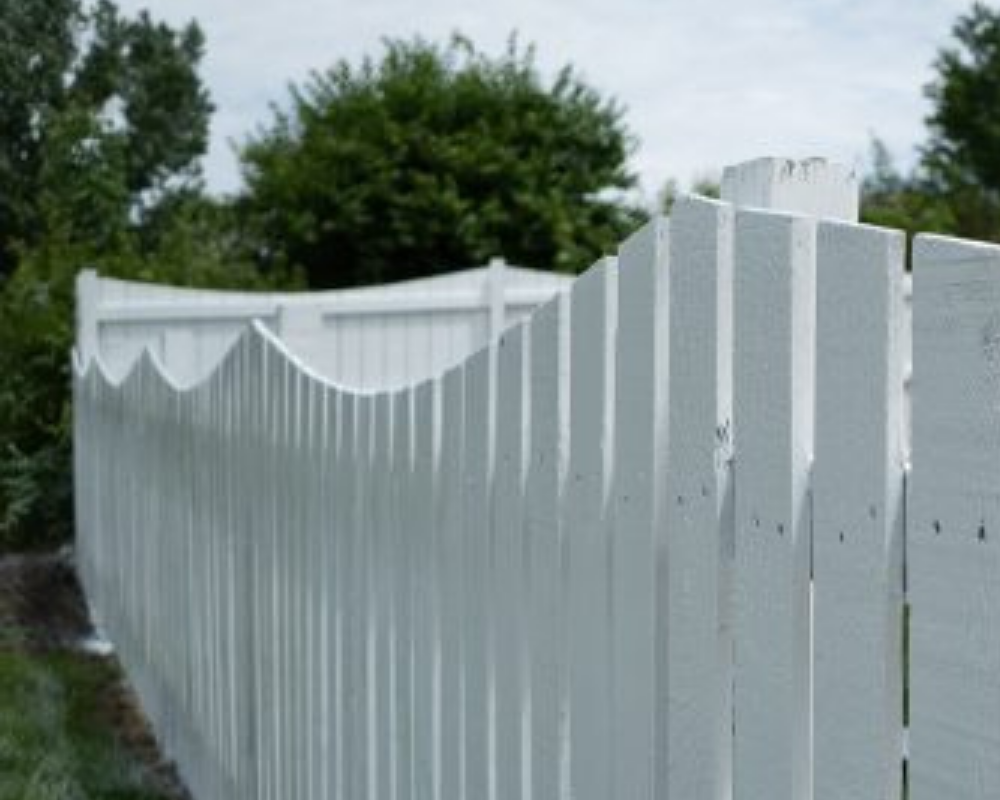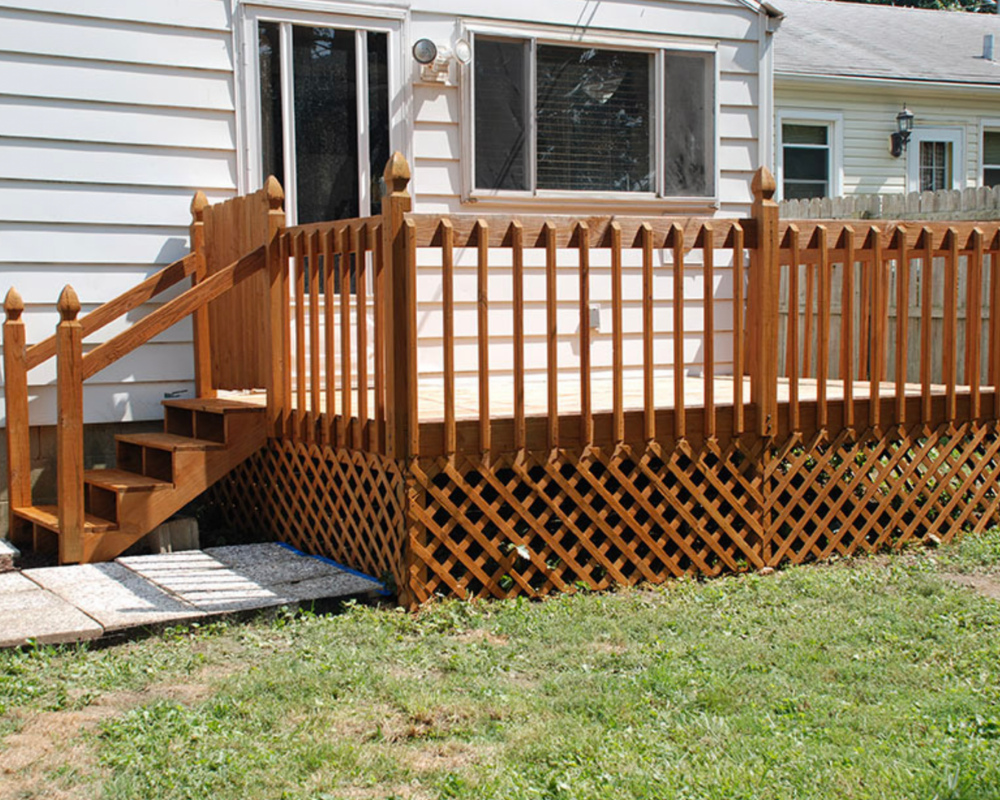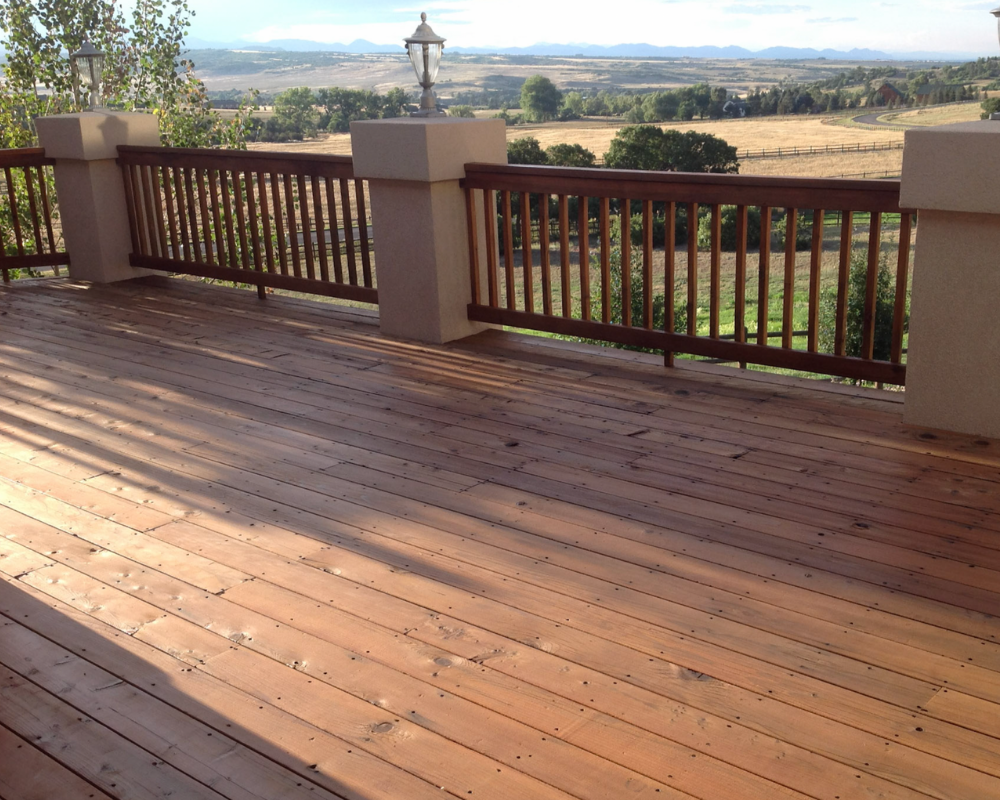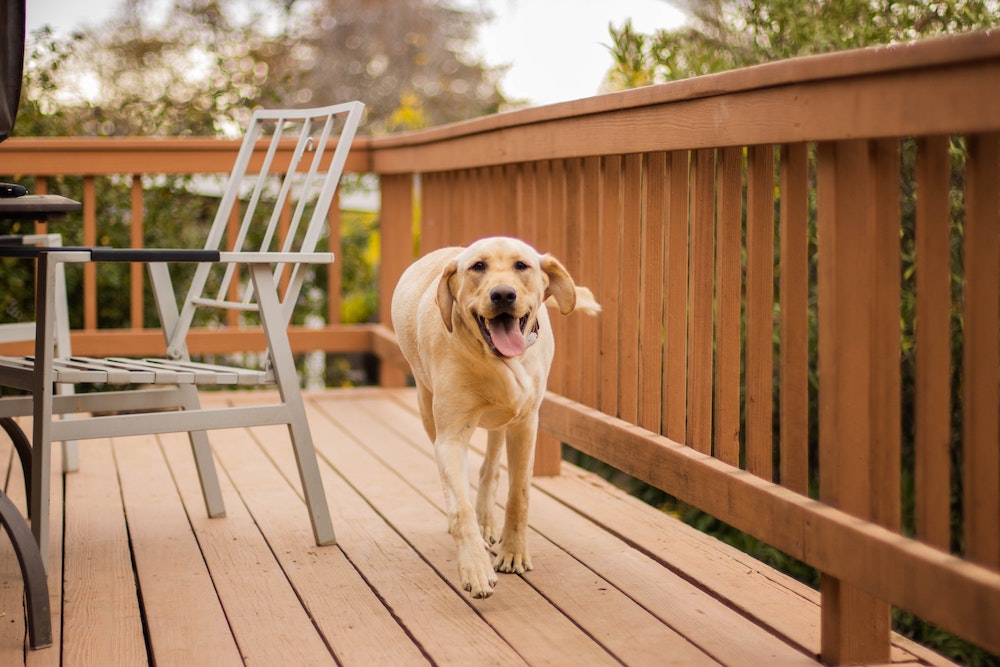 We Can Help
Not Sure If This Stain Is RIGHT FOR YOU?
Wondering which DEFY products it takes to
complete your project?
Answer just a few questions
(it takes less than a minute) and we can tell you exactly what you need to get the job done.